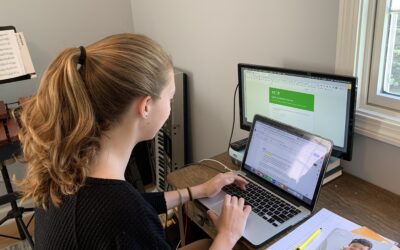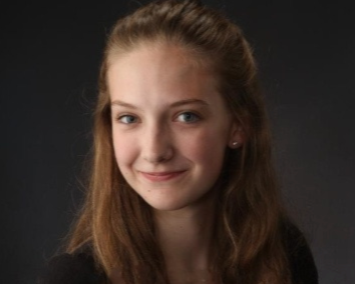 PROP Food Shelf was honored to be selected by The Lutheran Center for Faith, Values and Community at St. Olaf College in Northfield, MN, to receive a summer intern from the college for the second year in a row. This summer we welcomed Megan Hoffhines, a social work and music major from Wilmette, Illinois. As she concludes her internship, Megan took some time to share a bit about her experience at PROP. We are very grateful to St. Olaf College for sponsoring such a high quality student to serve in our community and further PROP's mission.
Q & A with Megan
Why don't you start by telling us a little bit about yourself?
I am a social work and music major at St. Olaf College from Wilmette, IL. I originally chose St. Olaf for the music community and love playing everything "percussion" (from marimba to boomwhackers) with my friends in the St. Olaf Band and Orchestra. When not rehearsing or playing, I am working with St. Olaf's Broadcast Media team, sending emails as our Percussion Manager, or working on something social work-y for my classes. While I'm at home for the summer, I fix up old furniture with my mom and pet my two cats, Chipmunk and Squirrel, in my free time.
How did you find out about the internship at PROP and why did you choose to apply?
I found out about this internship through the Lutheran Center at St. Olaf. While searching for an internship this summer, my goals were to work with people who are making a real difference and to try out real-life social work skills by talking to real people or clients. I've found multiple awesome internships through St. Olaf resources in the past, and an email from the Lutheran Center dropped PROP's internship position right on my lap. It was easy to see that PROP is doing great things for the Eden Prairie and Chanhassen communities, and I love that their mission is big-picture and client-centered; I knew I wanted to be here.
What made you say yes when PROP offered you the position?
My first phone calls with Mary Brown were so understanding and patient (we had trouble connecting a few times because we were both so busy, so I knew she would understand me!). It was clear that everyone at PROP was going to be so supportive of anything I work on or try out. Everyone made and continues to make meaningful relationships with me, and I could tell it was a great team to work with right from the start.
What have been the highlights of your internship at PROP in terms of responsibilities?
Part of what I love about this internship is that I'm kept busy: I've worked on more projects than I can keep track of since the beginning of June, and connected with people in all corners of PROP. I've enjoyed my more creative projects, like writing articles for newsletters and grant writing, just as much as the larger overarching jobs. One highlight has been working with the Case Management team on preliminary calls to clients, which has allowed me to practice nearly everything I've learned in social work classes at St. Olaf while learning a lot about myself and social work as a whole.
Has this internship validated your career choice?
This internship has definitely validated my career choice and what I feel to be my vocation. Social work classes at St. Olaf have been amazing in preparing me for real-world client interactions, but with PROP I get to see all sides of the process, and sometimes am a part of client stories that are tougher than anything a class could offer. I'm thankful that everyone at PROP has put trust in me, putting me on the front lines, and I've learned a lot about myself in the process – My concerns about the irony of being an introverted social work major have relaxed!
How has The Lutheran Center for Faith, Values and Community at St. Olaf supported you during this time?
I'm exceptionally grateful to The Lutheran Center for connecting me with PROP and sponsoring my summer with them. St. Olaf as a whole has introduced me to so many people through internships in particular, and this one has blossomed into more than I imagined when I began this June! I feel significantly more prepared for not only my classes this fall with newfound experience and knowledge, but my entire career in the future.
What are you most looking forward to next year back at St. Olaf?
Next year is a busy year: I'm excited to begin a full-time social work internship with the Northfield Hospital as a part of my degree in the fall, and have three tours with my music ensembles to look forward to!
Megan was a terrific addition to the PROP team this summer. Her exceptional maturity and competence, demonstrated through her ability to tackle detailed projects independently, speaks to the high level of preparedness she has developed through her education. She will be a great asset to any workplace and we are so grateful for her many contributions to PROP, especially the positive impact on the clients we serve.
Megan has been a joy to work with this summer. The gifts and abilities she brought to us were exactly what we needed at this critical time coming out of the pandemic. Her positivity, professionalism and work ethic have contributed to her many accomplishments in helping our clients in a myriad of ways. The transformative impact of her work will continue, even as she leaves to return to St. Olaf College.
Megan's willingness to learn helped her to quickly engage and jump right in learning about how the Social Services team works. Megan was tasked with helping to develop a new process for clients at the early stage of engagement with the agency. Megan asked questions when unsure, she proceeded with confidence once her questions were answered, and the team  was very appreciative of her contributions.